High Speed roller shutter doors are designed to open and close at high operating speeds. Also known as 'rapid action doors', they offer high productivity and reliability in a commercial and industrial/storage setting, where maintaining controlled environments and 'air flow' is a top priority. Choosing a suitable door needs very careful consideration, and it is important to know how to use them and their specific characteristics to determine the best design for your on-site needs.
Basic Features of a High Speed Door
HIGH SPEED DOOR FEATURES
They operate faster than standard roller shutters or sectional doors.
Most models will operate at an opening and closing speed of 1 second per 1000mm.
They are also a non-swinging door that typically roll, fold or slide into a canopy at the top.
They facilitate easy and rapid access to and from environmentally-controlled buildings or rooms whilst minimising temperature changes
They are ideally suited to applications that include the mitigation against heat loss in warehouses or distribution centres. They can also be used to protect refrigerated rooms or other sensitive environments, such as food or pharmaceutical manufacturing.
The door will possess a strengthened drivetrain; a strong but lightweight curtain usually constructed from either PVC (a cheaper option) or steel (a more expensive option), and a high speed 3-phase power motor with built-in safety fall backs, such as safety edging and photocells
Types Of High-Speed Shutters
The design and dimensions are a vital part of the operating mechanism, and also ensure the door's longevity and efficient energy consumption.
Rapid Roll Up PVC Door
These doors quickly minimise the loss of heat and restrict sound flow.

Enables quick access and denial to the premises.

Cost effective and optimizes traffic flow and production.

Has airtight closure due to zip seals in the guides. 

A self-repair option is also available (see below).
View rapid roll up PVC door here.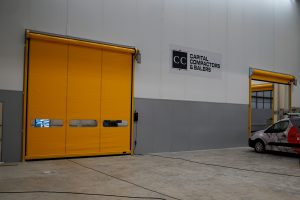 Self-Repair Rapid Roll Up Door
Same as the Rapid Roll PVC door above, but if the curtain on the roll door is stuck, it has the ability to automatically reset itself into the guides. 

A manual reset may be required in certain situations. Suitable for a large range of industrial applications.
View our rapid roll self repair door here
Rapid Fold PVC Door
Made from high strength PVC. These doors are similar to the Rapid Roll Up door, however these are reinforced with steel rods to make them more resistant to wind pressure and more suitable for wider openings. As the name suggests, they also "fold up" rather than "roll up". 

Energy-cost effective and beneficial for both commercial and industrial areas.
View our rapid fold PVC door here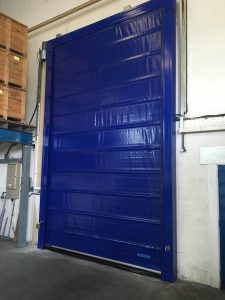 Rapid Action Steel Door
Often dubbed as a 'dual door', it does the job of two roller shutters offering security, insulation and speed – a unique blend.

Made from lightweight, insulated steel and fitted with end locks, it is wired up to a control panel that allows the shutters to operate up to 1 second per 1000mm (depending on usage and size).

Commonly used in car garages or food factories, but they can be used in banks or bookkeepers if they need a rapid closing door.
View our dual doors here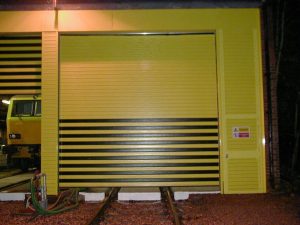 Insulated Steel Spiral Door
Boasts all the benefits of a traditional roller shutter, but unlike one which rolls around the barrel, this is a faster mechanism that rolls into a spiral effect and offers low maintenance.

Includes 40mm and 80mm insulation panels. It can be adapted for horizontal or vertical use, including putting the headbox in the ground so the shutter closes from bottom to top.
View our spiral door here

What's the Difference between a high speed shutter and a regular roller shutter?
A regular roller shutter is generally used where security and price are key concerns.
In contrast to a high speed door which can open at a speed of 1m/second, a regular roller shutter typically opens at a speed of around 1m/10 seconds. Moreover, unless you opt for one of our spiral or dual high speed doors, rapid open shutters are typically made from material and are therefore not suited for security. 
Ideal Uses
The versatility of high speed roller shutters make them ideal for a number of different premises, but these are common uses:
Rapid Roll Up
Rapid Fold
Rapid Steel
Steel Spiral

Warehouse/factory apertures where temperature needs to be regulated





Loading Bays (where security or wind is not an issue)





Areas in need of climate control, such as food processing or pharmaceutical industries

Warehouse/factory apertures where temperature needs to be regulated





Larger Openings or loading areas where wind may be an issue.





Areas in need of climate control, such as food processing or pharmaceutical industries

Car Parks





Openings where security and speed is needed





Banks/




Bookkeepers

Fire Stations

Hospitals

Industrial/




Retail Units





Fire Stations

Hospitals
What Should You Look For in High-Speed Roller Doors?
Factor in The Size
Factoring in local wind speeds and the doorway's specific measurements will help determine which type of door best suits your requirements. If, for example, you know that a warehouse forms a natural wind tunnel and/or has a bigger opening, you will know to upgrade to a Rapid Fold PVC door, or a steel version. Luckily, the majority of rapid roller doors are amenable in size.
Consider the Costs
Purchasing high speed roller doors can often be broken down into three sections:
– Initial Costs: Involves the cost of the door and installation fee. If you don't already have 3-phase power running to where the door will be installed, you'll also need to bear this cost in mind. Most roller shutter engineers are not qualified to wire up to 3-phase power, so you may need to arrange for an electrician to come back and finish up the wiring.
– Maintenance Costs: By their very nature, high speed doors run through a lot of cycles so you'll need to be prepared to spend more on maintenance. 
– Training Costs: The costs involved in training staff to operate the door efficiently.
Reliability
Investing money in a high speed door is expensive, so ensure you ask your roller shutter supplier the following questions:
How many operations will they be able to handle per hour and per day?

What safety features will come with my door?

What is the make of the motor? (opt for someone reputable like GFA). 

How often should I get the door maintained?
Potential Issues With High Speed Doors
Impact Damage
There is a high chance that your door will encounter impact damage if used carelessly.
If you have a Rapid Action steel door, this could mean dents to the door frame and curtain edge.
Rapid PVC doors can rip and, depending on where these damages are located, can affect the rolling mechanism causing it to stick in one position. This issue can be mitigated by installing a self-repairing rapid roll up PVC door, but you may want to ask your supplier to come out and assess the damage on site.
Delayed Operation
Depending on the curtain material, most damage can be repaired fairly quickly. However, for the best results the curtain should be removed and repaired in a manufacturer's factory. The labour for removal and repair could mean the door is out of service for a few days and could not only cost a lot, but affect on-site operations.
Sensor Obstructions
Most automated doors are equipped with photo electronic sensors at the foot of the track to keep pedestrians safe. An obstruction in the path, or across the face of the sensors could cause the door to not operate properly. Be sure to check there is nothing blocking the sensors before calling a technician.
Track Issues
Sometimes accidental damage to the door guides can be enough to jam or cause the door to run off its tracks during operation. If they are bent or warped, this could cause the door to stop moving altogether. It's vital to examine them for any dirt or dust build up, and check to see if the door curtain is hanging unevenly. Costs for replacement guides can vary depending on door type and size.
Other Considerations
Maintenance and Repairs
As you will be using your High-Speed door quite frequently, it is inevitable that some of the issues listed above will arise eventually without any maintenance. It is highly recommended that you get your high speed door maintained regularly. How often will be dependant on usage, so make sure you confirm this with the door supplier. 
How Often Should You Have Your High Speed Roller Shutters Serviced?
Under the Health & Safety Act, it is required that mechanical doors, and any corresponding parts, should be checked AT LEAST every 12 months. You may be required to check them more often depending upon the frequency of use and site conditions. Be guided by your shutter supplier on how often this should be.

Carrying out your own inspections will benefit you in the long run, but it is also good practice to schedule routine checks with a professional. They will have good knowledge of the product and may be able to upgrade your equipment, if and when this is required.  This will need to be demonstrated by signed paperwork from the authorised professional who will carry out the inspection.