Stainless Steel Roller Shutters
Our stainless steel roller shutter doors give a stylish, high-tech look and are naturally resistant to corrsion by design.
Being manufactured from stainless steel, these shutters are also easy to clean and naturally repel sunlight. 
Our stainless steel can come in different grades dependant on budget, but you'll generally find these types of shutters demand a much higher price tag than other models we offer. For a more cost effective solution perhaps check out our galvanised steel shutters.
View Our Range of Stainless Steel Roller Shutters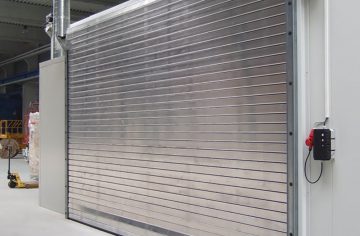 ST-11 Flat Lath Stainless Steel Roller Shutter
Prestigious shutters for high-end locations that give a polished, high-tech finish to all openings
View
Stainless steel roller shutters are used in environments where corrosion may be an issue, which is why you generally find them in coastal areas or on ships; particularly abroad.


Our stainless steel doors can be set up to operate via a number of different controls including: remote controls, push buttons, smart phones or any other existing control mechanisms on the premises.
All our doors are available with a 12 month warranty and will be installed to the highest standards using either a single phase or 3-phase motor depending on anticipated usage/size of door. 
Address
UK Roller Shutters Ltd
Unit 41
Wombourne Enterprise Park
Bridgnorth Road
Wombourne
United Kingdom
WV5 0AL
Get in Touch
We offer a wide range of roller shutters suitable for a number of different applications. All that choice may be confusing which is why we're happy to offer a no-obligation consultation.
Our roller shutter supplier experts will discuss your requirements with you, and help you to choose the right roller shutters.
Get in touch today for a free quote.