A number of our products can be re-engineered in such a way that they can be installed horizontally. Use a horizontal shutter across glass roofs to block out light, swimming pools to cover them up, or escalators to section them off.
As one of the few suppliers who offer this solution, we've conducted horizontal roller shutter installations in from London to Hong Kong.
If you see a product you like, ask our sales team whether we can adapt it to a horizontal type roller shutter.
View Our Range of Horizontal Shutters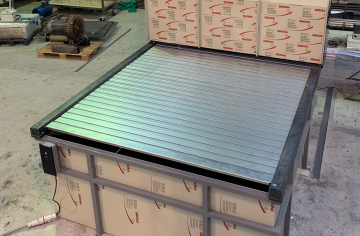 Steel Horizontal Roller Shutter (HZT-01)
Horizontal roller shutter doors are a sustainable and energy-efficient solution for protecting space from above
View
Our horizontal roller shutters have been installed industrially in Hong Kong as a fire barrier on the tube system, commercially in London to protect lift shafts and residentially across the UK to cover up peoples swimming pools or glass ceilings to block out the light. 

Due to the lateral strength needed, our horizontal roller shutters are nearly always manufactured from steel and feature a counter pully and spring system to pull the shutter back against gravity. Because of this, the space needed to install a horizontal shutter is often greater than regular doors. 
Address
UK Roller Shutters Ltd
Unit 41
Wombourne Enterprise Park
Bridgnorth Road
Wombourne
United Kingdom
WV5 0AL
Get in Touch
We offer a wide range of roller shutters suitable for a number of different applications. All that choice may be confusing which is why we're happy to offer a no-obligation consultation.
Our roller shutter supplier experts will discuss your requirements with you, and help you to choose the right roller shutters.
Get in touch today for a free quote.