Manually operated roller shutters are a type of roller shutter that is operated by a manual mechanism, as opposed to an electrified one.
There are two main methods of operation for manually operated shutters:
Spring and lock (push and pull) operation.
This type of operation is ideal for smaller, lighter shutters where weight won't be an issue. The spring-assisted roller door is balanced by a spring in the barrel, which is tensioned to adjust depending on the door's weight and height. The door is simply "pushed" and "pulled" to operate. This type of door is not the best option for industrial use, as it can be difficult to operate during winter months. The lock is usually located in the bottom of the T-rail and throws two bolts into the guides rails. Additional bullet locks can be fitted for added security.
Manual hand chain operation.
This system includes a pulley system and gears that make it easy to operate by simply pulling on a chain that hangs down the side of the shutter. It's worth noting that the door cannot open or close particularly quickly because the gears slow down the speed. Consequently, hand chain shutters are only suitable for doors that are not used often.
For security, the chain system can be locked by fitting it into a keep at chest height. The chain is usually padlocked and kept inside the building, but in some cases, the door is the last and first point of access, so the chain is kept outside. There are also bullet locks on either side of the door at chest height. These locks are turned with a key and secured in place. For even more security, a hasp and staple mechanism can be welded to the bottom rail or a steel section can be secured to the ground with a heavy duty padlock.
This type of operation is usually restricted to large, steel shutters in the context of warehouses, barns and factories that lack electricity.
Our manually operated roller shutters are available in both steel and aluminium and can be finished in a range of options including powder coating or plastisol coating. All our doors are CE marked and will have the relevant safety components built into them.
The Following Roller Shutters Are Available In Manual Operation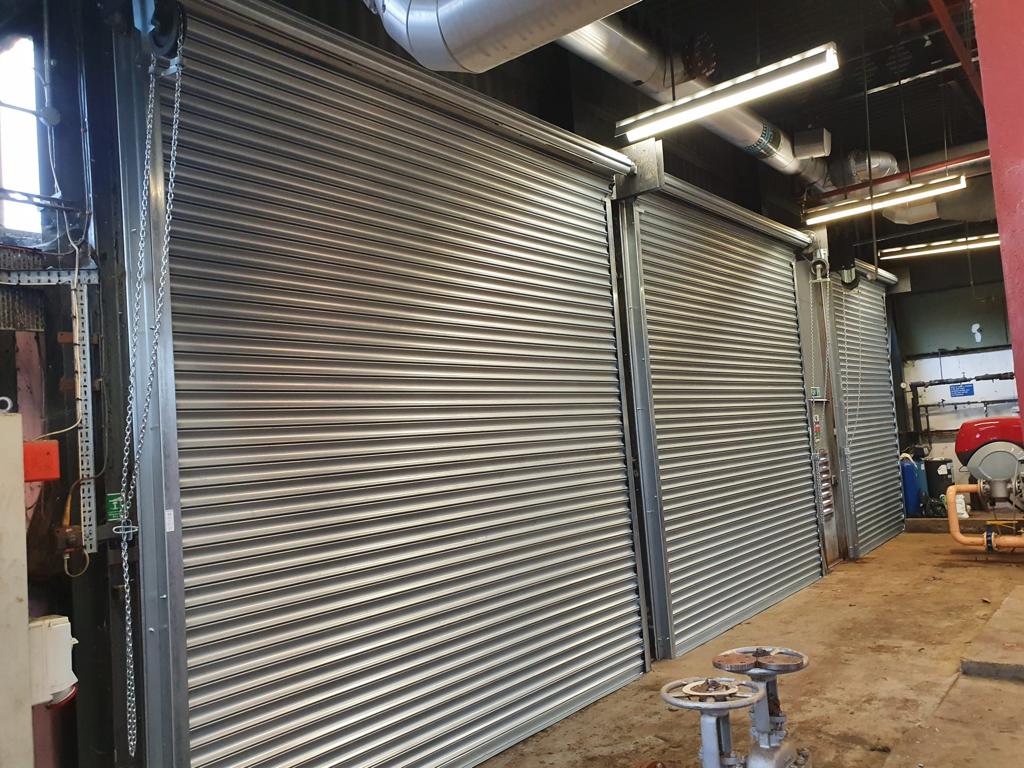 Galvanised Steel Shutters
A cost-effective solution for security. The galvanised finish generally protects against rust but can be coated for added protection. Perforated or punched steel options are available if airflow or visibility is required.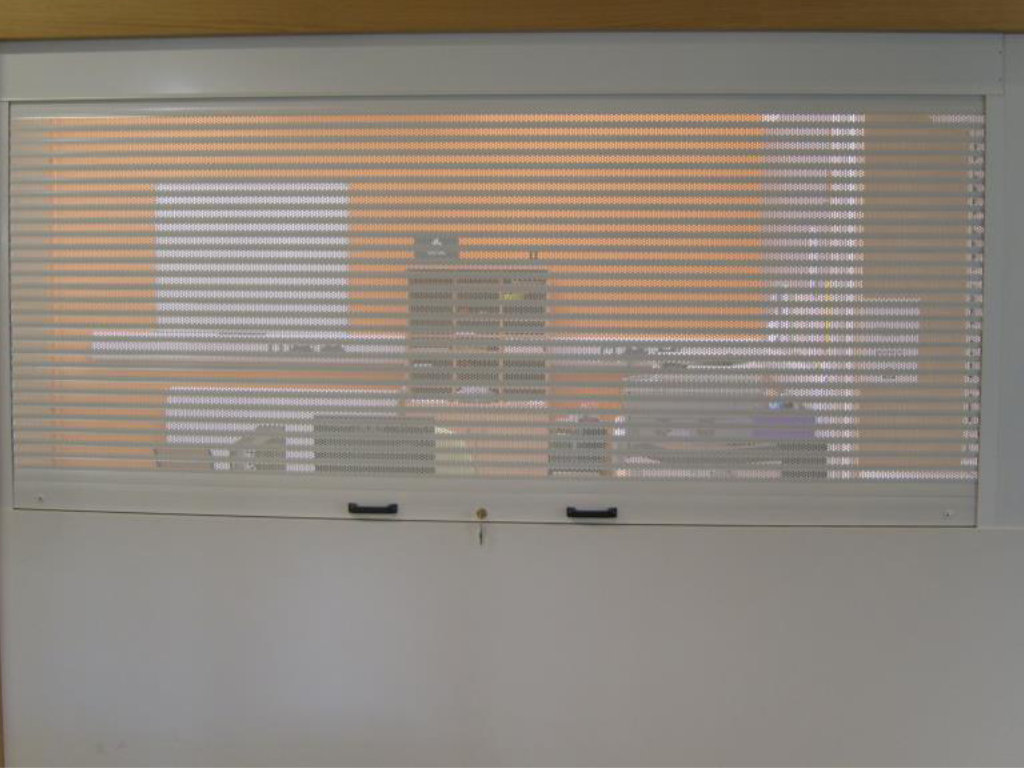 Aluminium Roller Shutters
Aluminium roller shutters are an effective way to secure your home or business while also providing a sleek and stylish look. Our shutters are highly customisable to suit your specific needs and are available in a range of colours.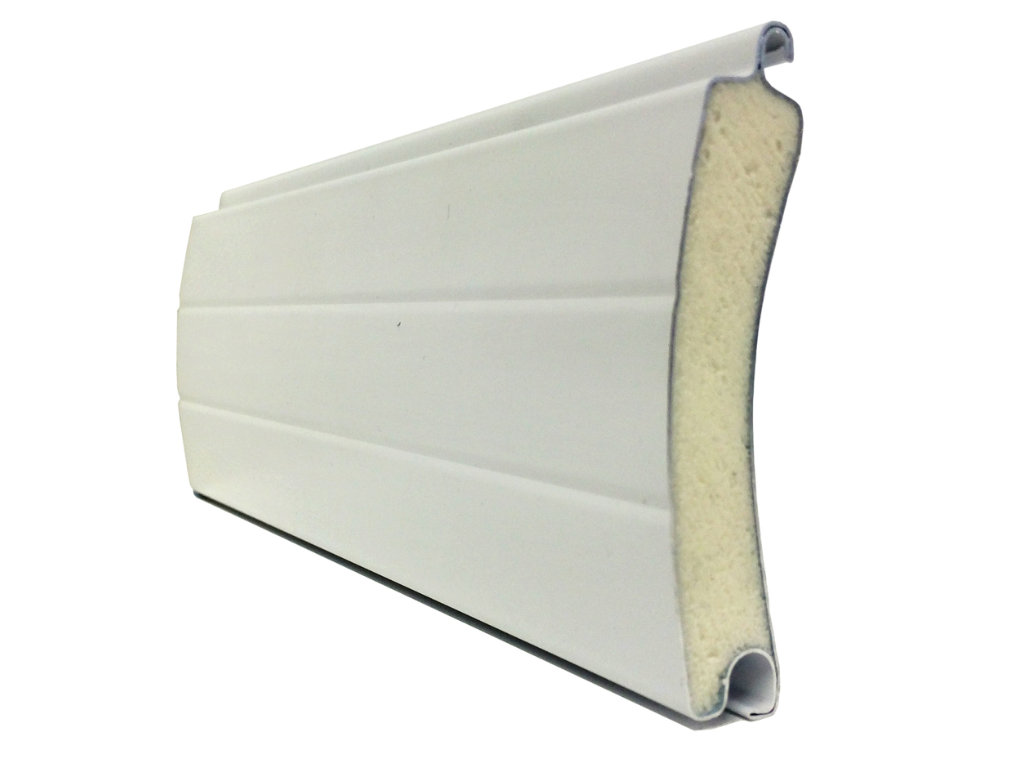 Insulated Roller Shutters
Improve thermal insulation whilst reducing draughts and noise pollution with an insulated roller shutter. Every insulated roller shutter is made from lath filled with an efficient and lightweight insulating material.
Manually operated spring and lock shutters are typically found on smaller openings and made from steel in commerical contexts, or over modest windows and doors and made from aluminium on domestic properties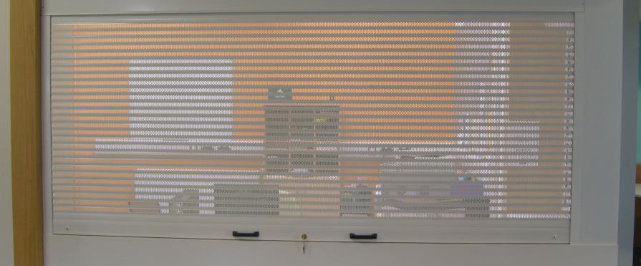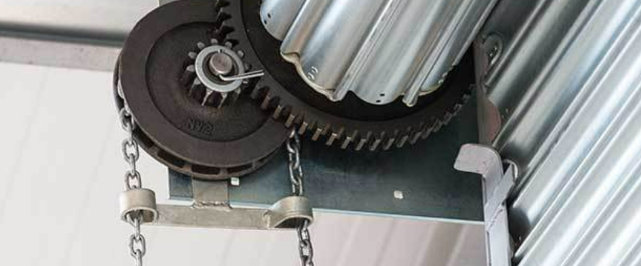 A Roller Shutter that is operated manually provides security in areas where there is no electricity, such as on farms, in factories, industrial units, and garages.
Advantages of a Manual Operated Roller Shutter
NO NEED FOR ELECTRICITY 
A Roller Shutter that is operated manually can go anywhere you have the headroom for it. So, even if your site is remote, a manual operated roller shutter can work for you.
SAFE AND SECURE
Our Manual Operated Roller Shutters hold a Wind Class rating up to Class 5 Wind Loading (BSEN 13241-1:2003, BSEN 12424:2000 and BSEN 12444:2001) where required.
Our spring assisted shutters used over doorways have a fail safe systems fitted for CE approval. This takes the form of a secondary spring ensuring the shutter does not drop like a guillotine if any other component breaks or fails.
Our Hand Chain Roller Shutter features a specialised Safety Brake that will engage in the event of the counter-balance springs breaking in the barrel.
This Safety Brake prevents the door 'dropping' from its original position.
All our doors conform to all Health and Safety regulations including the Provision and Use of Work Equipment Regulations 1998 (PUWER).
Address
UK Roller Shutters Ltd
Unit 41
Wombourne Enterprise Park
Bridgnorth Road
Wombourne
United Kingdom
WV5 0AL
Get in Touch
We offer a wide range of roller shutters suitable for a number of different applications. All that choice may be confusing which is why we're happy to offer a no-obligation consultation.
Our roller shutter supplier experts will discuss your requirements with you, and help you to choose the right roller shutters.
Get in touch today for a free quote.